The Grooming of NWBO
This little story is all about my subjective opinions and reflections about what really went down during the last six years, since NWBO was almost considered "down and out" in 2016 till now, standing on the verge of top line data for its first pipeline agent, DCVax-L, and with a bright future few can even imagine.
"The Grooming of NWBO" is actually a somewhat better title, because that is in its essense, what has really taken place in front of our eyes.
The story about the little biotech company called Northwest Biotherapeutics - in short NWBO - awaiting the top line data of its 20 year long instigated trial, is of course longer, but our tale starts around 2015 and 2016, when things started going haywire.
2015-17 Allegations, lawsuits, non compliance on Nasdaq
December 2015.
A Special Committee was being established by the Board of Directors to oversee an independent investigation of recent allegations
January 2016.
Sharp decline in stock.
May 2016.
Non-Compliance With Nasdaq $1.00 Per Share Bid Requirement
November 2016
NW Bio Announces Phase II Clinical Trial Program Combining DCVax®-L and Pembrolizumab (Keytruda®) for Colorectal Cancer. "More than 2 years of planning and work have gone into developing this Phase II trial program", Linda Powers noted.
December 2016
NWBO voluntarily withdraws from Nasdaq and begin trading on OTC Market
2017
Settling of several lawsuits with shareholders
ASM 2017
The Annual Shareholders Meeting of 2017, signaled shareholders worrying reflections on the situation.
.
Some of the questions asked
Status of SEC investigation?
Previous meetings have been followed by bad events, will this year be any different?
What can be said about the nefarious actions being taken against NWBO?
And then came this question
What is going on with combo trials?
Which was of course a hint to the combo trial setup with Mercks Keytruda targeting colorectal cancer, that was announced November 2016
Earlier in 2017 NWBO announced its Scientific Advisory Board (SAB) comprised of leading experts in immunotherapies and oncology from both the U.S. and Europe, that should address a variety of novel issues at the forefront of immuno-oncology, including growing interest in the field in regard to combination therapies.
Larry Smith from Smith on Stocks wrote about the combo trial:
The trial is being led by the University Medical Center (UMC) of the Johannes Gutenberg University Mainz in Germany which is a leading center in Germany comparable to a center like M.D. Anderson in the US. It is an investigator-initiated trial led by the University of Mainz which reduces the cost to NWBO. Merck will supply Keytruda needed for the trial. My guess is that the cost to NWBO will be in the $5 to $7 million range. All three organizations participated in the design of the trial.
But the trial suddenly went of the radar and even on the University of Mainz website, it is difficult to find information of it beyond press releases and smaller articles.
So what did the management respond to that question on the ASM in 2017? According to a transcript the following was said:
NWBO has not said anything about them because everyone is waiting for the Phase III results and any talk of the combo trials would just be seen as an attempt to distract from the Phase III results. FDA approved trials with Optivo. Merck approved trials with Keytruda. There are several planned with DC VAX L that have not been publicly discussed, so they can't talk about them. NWBO is ready to go on these combo trials.
Smith on Stocks had these comments for the silence from NWBO, in an article he wrote back late 2016.
I believe that there is another plausible, diametrically opposed and much more positive scenario which also has a reasonable chance of occurring, but is not factored at all into the current stock price. In this report, I put forth a hypothesis that seeks to explain why management has been silent for a year and further speculates that the DCVax-L phase 3 trial could be successful. Obviously this would be explosively positive and almost totally unexpected news.
In hindsight - looking back at the harassment towards NWBO from all sides and what occured with combo trials at that point - his thoughts about the possibility of explosively positive success, is now strikingly more clear.
Let's try to dive into that.
Colorectal combo trial with Keytruda 2016
An investigator-initiated trial led by the University Medical Center (UMC) in Germany comparable to UCLA with Merck supplying Keytruda.
The trial went of the map.
Assumption:
Well, I assume that Merck pulled the plug on the colorectal combo trial, due to all the negative hype surrounding NWBO at that time, believing NWBO wouldn't be able to pull through.
Also, Merck had announced in spring 2017 that FDA had accepted an sBLA filing for the combination of Keytruda and chemotherapy, which Smith on Stocks had these comments to:
Most analysts were expecting that filing for the Keytruda/ chemotherapy combination in first line lung cancer would be based on a phase 3 study that is scheduled to read out in September 2018. Because the FDA is willing to consider data from this phase 2 trial, Merck stands to gain approval nine months earlier than might have been expected.
In short. BMY was in trouble.
Interim Data from DCvax-L blended and blinded data 2018
In 2018 NWBO announced its interim data resultsof the Phase 3 trial. The in-depth white-paper supported that the data was astounding.
Smith on Stock said:
My speculation is, that DCVax-L appears to be producing a survival tail in GBM that is as robust as Opdivo in advanced squamous and non-squamous NSCLC.
Combo trial with Opdivo 2019
In January 2017 - according to ClinicalTrials website - the first indications of a new combo trial with DCVax-L, with the official name:
Autologous Dendritic Cells Pulsed With Tumor Lysate Antigen Vaccine and Nivolumab in Treating Patients With Recurrent Glioblastoma
Both NWBO and BMY had everything to win by joining forces with BMYs competitive PD-1 inhibitor Opdivo (Nivolumab) and DCvax-L.
It was to start December 1st. 2019 and it would go for lung cancer. This was a direct attack on Mercks dominance with Keytruda. The interim data showed enormous potential and Opdivo+DCvax-L would be able to become an alternative for treatments to all solid tumors.
In 2016 it seemed as if Keytruda was the better alternative compared to Opdivo…
Keytruda and Opdivo are both highly effective and commercially successful drugs which harness a patient's immune system to kill a growing list of cancer types. Both drugs are even effective in treating patients with lung cancer that no longer responds to prior therapies.
However, in newly diagnosed lung cancer, a commercial market opportunity that could reach $8 billion in sales annually, Merck's Keytruda works and Bristol's Opdivo does not.
But backed up by DCvax-L tables could be turned!
Having watched NWBO survice the ordeals of 2015-2016 and now touting remarkable results with its interim data of its P3 trial, Merck decided to intervene, being adamant NOT to let anything hurt its golden egg Keytruda.
This was the original game plan for the combo trial with Opdivo:

Opdivo trial withdrawn - The Duffy Connection
But UCLA and NCI withdraw the trial in late July 2019 and 6 weeks later Kevin Duffy from Merck Joined NWBO as Vice President for Medical Affairs & External Collaborations.
This is an excerpt of Kevin Duffys Keytruda connection while in Merck
Kevin Duffy is joining NW Bio from Merck, where he has served as Research Scientific Director in the Keytruda® (pembrolizumab) program during the last five years. Dr. Duffy's roles included scientific support and outreach to health care providers and national and regional scientific leaders in over 20 different solid tumors and hematologic malignancies (blood cancers and lymphomas) relating to Merck's clinical development and commercialization of Keytruda, as well as ongoing scientific support for Merck's Investigator-Initiated Study Program. He served as the national contact point between the scientific affairs team working with medical professionals in the field and the internal research and development team in Merck for the Keynote-024 study in first-line non-small cell lung cancer.
Kevin Duffy said:
As I look forward now to the next wave of advances in immune therapies for cancer, I am excited about the potential of NW Bio's DCVax technologies to deliver new breakthroughs for patients. I hope to build on my experience in immuno-oncology and my network of relationships in the field to help NW Bio achieve this potential
Combo trial with Keytruda
Already at the Annual Shareholders Meeting 2018, held February 2nd. 2019, we hear Linda Powers speak of a new combo trial with Merck, after a question from one of the attendees
What is the status of combination trials?
Linda Powers said:
I can talk about what we've said publicly… . . What we've said publicly is a couple of things. First off, we feel that our technology is very well suited for a lot of combinations. Combinations with checkpoint inhibitors, combinations with targeted agents, it's really well suited for combinations because of the mechanism of action of how our technology works and because the safety profile is so utterly benign. You know, if you've seen other combination trials for example of two checkpoint inhibitors together, the toxicity of that is so high that there's a 40% dropout rate from the patients just because of the side effects, right? So we are very much looking forward to doing combination trials. There has been public disclosure about two combination trials that we would like to do with DC Vax-L for example. One that we announced publicly was a . . . and its still there on the table for us to go forward with when we are ready . . . it's a combination trail with DC Vax-L and Keytruda, the checkpoint inhibitor drug of Merck**. That trial, which we did announce publicly and has been approved by Merck, and those agreements were signed and all that, but as small as we are we haven't yet been able to launch that trial in parallel with everything else. But that should be a very interesting trials when we do it.
This was the game plan

And Merck and NWBO were ready. Two months later, a combo trial with Keytruda and DCVax-L under the generic names Pembrolizumab and DCvax-L, was started, shortly after Duffy came to NWBO.

And around the Annual Shareholder Meeting of April 18th. 2020, we found out, that Kevin Duffy went back to Merck.
What was that all about?
Colorectal cancer combo trial with DCVax-L and Keytruda setup by Mainz University
Colorectal cancer combo trial with DCVax-L and Keytruda setup suddenly "disappeared"
Interim data shows astounding results for DCVax-L
UCLA Lung cancer combo trial with DCVax-L and Opdivo setup by BMY and NWBO
UCLA GBM cancer combo trial with DCVax-L and Keytruda setup by Merck and NCI
Kevin Duffy, Keytruda hot shot from Merck joins NWBO
Opdivo trial gets withdrawn
The more I have looked at, what went down during these years, the more I have become certain, that the results from the DCvax-L Phase 3 trial we await now, is playing second fiddle to DCvax-L in combo trials with Keytruda.
Look at the latest science of comparing Mercks Keytruda inhibitor with BMYs Opdivo, just released.
Nivolumab (Opdivo) did not differ from Pembrolizumab (Keytruda) in efficacy and safety.
Everywhere you can read articles of Keytruda battling it out with Opdivo in different cancers.
What is the difference between Opdivo and Keytruda?
Sales gap grows between rival Merck, Bristol cancer therapies
Bristol Myers' Opdivo loses FDA panel's favor in liver cancer but squeezes out Merck's Keytruda in stomach cancer
Current sales
Keytruda continues to be the golden egg in Mercks business. Revenue increases each quarter, but in the horizon, sales are threatened by Merck loosing its patent around 2027.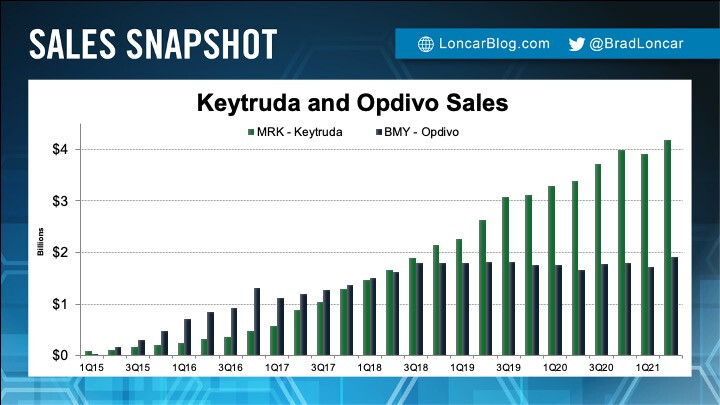 Sales in the future
Top 10 drugs by annual revenue in 2025


DCVax-L the diamond egg
You COULD add the following to the "What was that all about?" list above
NWBO says nothing about the combo trial and do not support the share price!
The facts is that at the last two ASMs for 2020 and 2021, nothing has been mentioned about the combo trials, which is in accordance with what Linda Powers said at the ASM in 2017:
NWBO has not said anything about them because everyone is waiting for the Phase III results and any talk of the combo trials would just be seen as an attempt to distract from the Phase III results
Breaking the silence
But while we have awaited the results of the DCVax-L P3 trial, the topline data and a journal, NWBO have broken radio silence regarding informing about the results of the combo trial with Keytruda.
Linda Liau has been doing several presentations in 2021 and already three in 2022, regarding the efficacy of the combo. You can read more about that in the article we did last week, ATL-DC is DCVax-L, or see the video presentations yourself below.
Linda Liau presentations of the combo trialDCvax-L with Keytruda
Therapy Induced-resistance in Glioblastoma - Grand Rounds - March 31st. 2022 - which also included discussion on a new trial in newly diagnosed GBM patients, they will be starting in the near future.
WCM Neurosurgery Grand Rounds: Dr Linda Liau - February 15th. 2022
Immunotherapy for Glioblastoma: Overcoming Resistance - May 19th. 2021
Immunotherapy and Clinical Trials for Brain Tumors - First mentioning March 1st. 2019
Bottomline is, that Linda Liau has been speaking the last year about already astounding results, using Keytruda and DCvax-L in combination to target solid tumors. Not least together with the drug poly-iclc.
Listen to Linda Liau here:
"The group that got dendritic cell vaccination plus poly-ICLC had a 50% survival rate and now the majority of these patients are reaching 100 months and with not only survival but really no tumor recurrence."
Conclusion
While the P3 trial of DCvax-L is where all looks at currently, it will be the efficacy of the combination of DCvax-L and Keytruda, that eventually will lay the ground for valuation and a price tag, if NWBO will be acquired by Merck.
And they will.
The Kevin Duffy incident in 2019 marked the point in time, where Merck "asked" NWBO to get rid of its competitors. Withdraw the Opdivo combo trial. Setup the Keytruda trial and prove efficacy as quickly as possible. And Linda Liau is already doing that.
Merck will setup MANY combo trials targeting lung, colorectal, breast, prostate and more, as soon as possible after a buy out.
NWBO has done its part. IP is in the house with 270 global patents. Automation of production of vaccine will be certified within short. And orphan drug designation from 7-10 years will follow.
DCvax-L + Keytruda will completely dominate the realm of targeting solid tumors the next decade and we haven't even started talking about DCvax-Direct.
Do the math. But you will not be able to fathom, how much this combo will be worth.
You can study the yearly Keytruda revenue.
Instead of seeing this top and then decline after patent runs out, DCvax-L will not only extend the dominance in certain solid tumor areas, but in new ones as well.
I dare you to try to come up with a reasonable figure, but looking at BMY acquiring Celgene for $74B in 2019, and compare to the potential with DCvax-L …
Will there be a bidding war?
No. The deal is already brokered. Topline data, journal, certification of Flaskworks, BLA, approval awaits, and while that outcome will be a revolution, the real deal has already found place.
We just don't know the figure yet.
But be sure, that anything below $30 a share - fully diluted - is an insult.