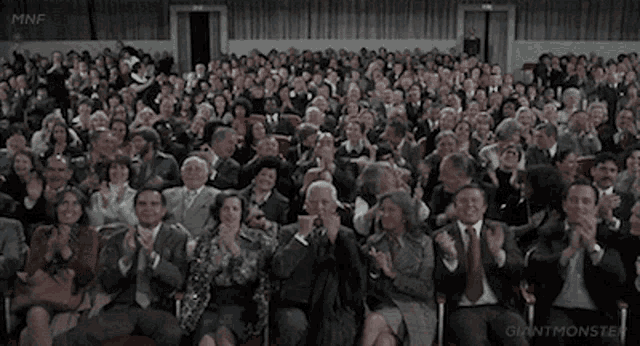 I can not say, whether or not, we are about to witness a so-called "mother of all short squeezes" in the upcoming week, but less should be able to do it.
If you have been out travelling, shopping or just been binge watching Deadwood for the umptenth time and feel out of the loop of what is about to go down, then let's recap some of what happened the last week.
We went from $1.09 Monday to $1.86 at closing time Friday, having touched $1.99 along the way.

Still not having broken $2 and going into a new trading week, that easily could start of with a PR announcing TLD, is quite extraordinary, considering all the good news and breadcrumbs pointing to unequivocally succesful results.
One could argue, whether NWBO intentionally or not, would want for retailers to get one last shoot at loading up, before things go batshit crazy.
One could also argue, that we already have received so much information, that the stock price in an ideal world without Market Makers intervention, now probably would have been in the $3-5 range. But the SP has been artificially depressed for long now, almost like a coil, through this borderline criminal manipulation.
So, what did we learn in school today?
1) We learned - again - that ATL-DC IS DCVax®-L
Well, Friday we had the 2022 UCLA Virtual Brain Tumor Conference, ending with the Virtual Brain Tumor Board and Q&A Session. It had the esteemed UCLA doctor Timothy Cloughesy (Principal Investigator of the UCLA SPORE 1 Project, the combo trial with DCVax®-L and Keytruda), answer a question from an attendee:
Timothy Sommers 12:01 AM
is ATL-DC the same as DC-Vax-L?
Cloughesy, Timothy F. 12:10 AM
yes, that is correct
It was ALSO confirmed by UCLA doctor Leia Nghiemphu, thereby repeating what she already stated at the same Q&A webinar for the same conference 1 year ago in 2021.
We have refuted the "ATL-DC is not DCVax-L" claim from fudders, by bringing forth around 10 different sources, among these several UCLA doctors, that all confirms, that ATL-DC IS DCVax-L.
Let's just end that lesson here, with this spot-on generic characterization of the fudders we've been up against regarding this "issue". On Investorshub we can STILL find a pinned posting of Adam Feuersteins attempt to manipulate with this even though it has been refuted ad nauseum for months bringing forth truck loads of factual argumentation.
Just goes to show, what forces we've been up against discussing this.
2) We learned that quiet period is over
Look at this press release from February 17th. and compare the About section, with the press release from May 4th.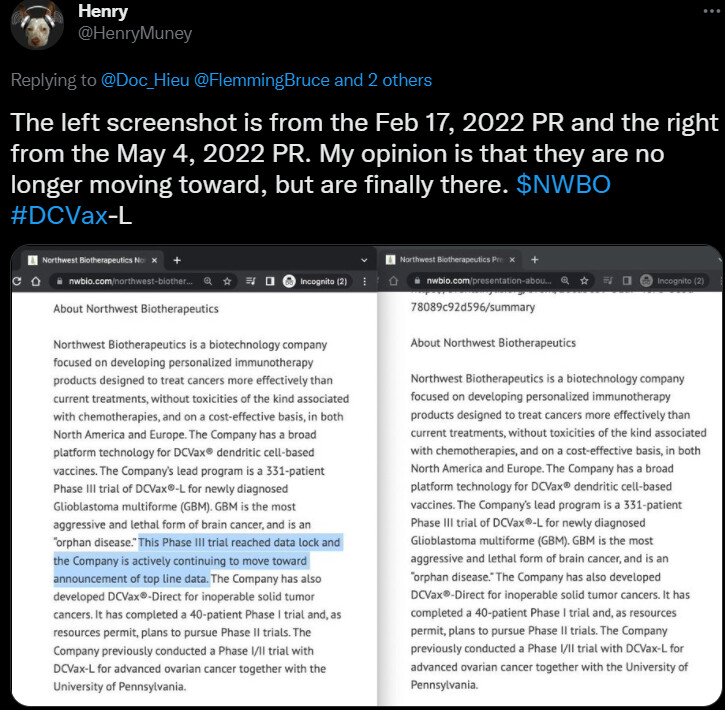 The excerpt
This Phase III trial reached data lock and the Company is actively continuing to move toward announcement of top line data.
Has been an integral part of NWBO's press releases since October 28st. 2021, but has now been removed from the About section.
A move that signals they consider the quiet period for having ended-
3) We learned that Linda Liau WILL talk about trial results Tuesday May 10th.
During the UCLA Q&A this conversation found place between Dr. Cloughesy and Dr. Nghiemphu
Dr. Leia Nghiemphu: "I think people are wondering, 'Where's the data?"

Dr, Cloughesy: Oh well, it's gonna be presented by, I think they just had a press release…"

Dr. Nghiemphus: "Press release…"

Dr. Cloughesy: "…saying that it's gonna be presented by Dr. Liau on the 10th of May at…"

Dr. Nghieumphu: "New York?"

Dr. Cloughesy: "Let me get that exact thing…at…um…The Frontiers of Cancer Immunology Therapy Conference um New York Academy of Sciences so looks like it'll be at 11:10 am, I'm assuming that's Eastern Time but I don't really know. Uh, so that'll be May the 10th.
(click to view)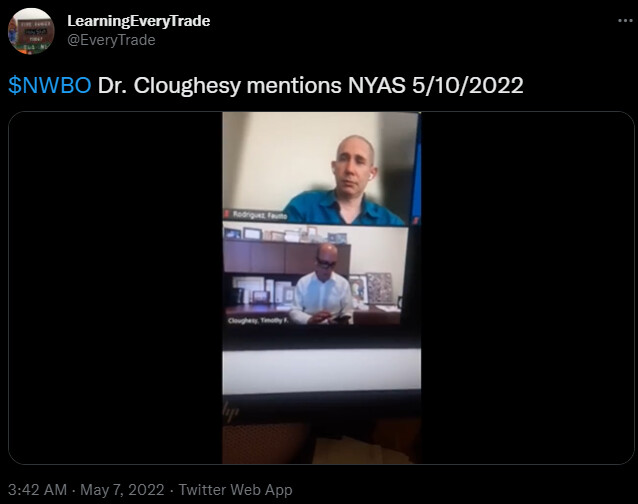 Joan Lappin tweeted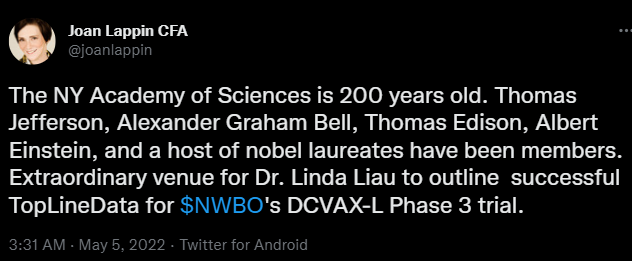 The email newsletter from the Frontiers in Cancer Immunotherapy was sent out with this notification:
Don't miss Dr. Liau's presentation! In her lecture "Autologous Tumor Lysate-loaded Dendritic Cell Vaccination for Glioblastoma," she will be sharing exciting updates from her Phase 3 Glioblastoma Multiforme clinical trial.
The following from NWBO will be attending the event:
Alton Boynton
Brad Silver (15 years long survivor of GBM)
Carol Powers
Cofer Black
Daniel Moore
Erik Ramos
Jean Davis
Jerry Jasinowski
Kristyn D Power
Linda Powers
Marnix Bosch
Navid Malik
AND
Shashi Murthy (Flaskworks inventor)
Andrew Kozbial (Flaskworks)
Lekhana Bandery (Flaskworks)
Dr. Steven Brem will be there
The news is now gaining attraction in other cancer medias.
IMHO
At this point in time I don't care if anyone are still having doubts about "what is goind to come down" in the next week.
Linda Liau will present results from the P3 trial Tuesday.
TLD HAS to happen beforehand, thus Monday before opening hours, or Tuesday before the event.
What triggers trading halt?

Trading can be halted in anticipation of a news announcement
Then remains speculation about the journal. WHEN will it follow and who have gotten the scoop?
This may be a binary event, but the odds are in no way 50/50. They are 100/0 for a succesful outcome.
NO ONE - and especially not Dr. Linda Liau - gets a session in New York in order to explain a failed trial. You neither get all of NWBO and the Flaskwords employees and survivors having been treated with DCVax-L, to attend.
Do you want to see something cool before we ends?
Excerpt from the article:
Merck has dumped Moderna's mutant KRAS vaccine mRNA-5671. The action, which comes shortly after Merck closed enrollment in a phase 1 trial, leaves Moderna pondering the next steps for the program.

In 2018, Moderna granted Merck the chance to opt in to the co-development of mRNA-5671 after the completion of human proof-of-concept studies. Yet, while Merck had until after the delivery of phase 2 data to make a decision, it has opted to walk away before wrapping up a first-in-human study in patients with non-small cell lung cancer, colorectal cancer and pancreatic adenocarcinoma.
Yes, Merck is now focusing all on the combo trial with DCVax-L.
Think about that once more. Merck has dumped Moderna.
You can not fathom what is about to go down in this week. Talking about exit strategies and selling while still on the OTC and institutions having yet to buy in, awaiting approval and this about to go haywire viral. You must be out of your mind.
To all of you who still pursues the bearish fudding approach the coming week.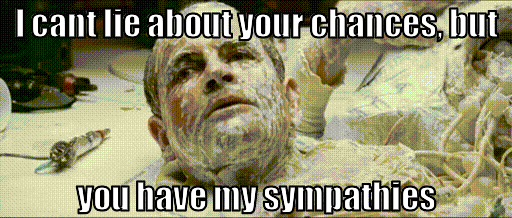 PS
Did we mention the interest in NWBO from Denmark?