Linda Liau not to present due to Covid
Yesterday we were sadly informed about Linda Liau and her son having come down with Covid, while in England. Thus she will not be able to deliver her presentation of the P3 trial at the Frontiers in Cancer Immunotherapy conference in New York.
Personally I feel very sad about Linda Liau missing her spotlight time FINALLY delivering trial results and receive well deserved accolades from the community for so many years of researching this.
Paul Mulholland to take over
Instead that assignment has been passed on to Paul Mulholland MBBS, MSc, PhD, FRCP, from the University College Hospital. He was in on MHRA approvals for Advents manufacturing facility. He was one of the main writers of the 2018 JTM paper on the interim data. He was one of the P3 clinicians and 99% one of the main authors on the journal article, probably knowing the results as well as Linda Liau.

The Adam Feuerstein "factor"
Of course an incident like this, will be used as indecently as possible, by the community of fudders and shorters, who have already tried to attribute this to yet another "kicking the can down the street" event and thus yet again, reaching deep in the vault of lowest denominators to sow fear, uncertainty and doubt among investors.
Fronting this vile behaviour, we have yet again the journalist from STAT NEWS, Adam Feuerstein, who was the first one to comment on the ordeal.

Not adding the reason for Linda Liau having to step down from the presentation and reducing Paul Mulholland to "someone else", he did, what he does best. He created fear, uncertainty and doubt and within minutes message boards were flooded with fud and shorter disciples, trying to feed on this, and preparing for yet another reward of 30 silvercoins.
He followed up an hour later. still not adding covid to the equation and asserting, that Lina Liau was not going to present new data at her symposium.

During the weekend Adam Feuerstein blocked a slew of NWBO followers from Twitter, many having never commented on his tweets, thus preparing himself for this day, being able to do his NWBO bashing as isolated as possible from any criticism or negative comments coming his way. If not anything else, one must admit he is a master of manipulation.
Why TLD and trial results are being announced today
There are many reasons why today, is the "day of days" for longs.
Of course we have all important people from NWBO to attend. We have all from Flaskworks. We have Brad Silver, now a more than 15 year long DCVax-L survivor. It is the first time Linda Liau was to present anything about the P3 trial, thus completely annihilating fudders year long arguments, that she had "gone rogue", distanced herself from the trial and Linda Powers and even doing her own version of DCVax-L.
Sometimes it is very difficult to endure the nonsense that this community will denigrate themselves to promote.
But … the best reason I keep telling myself, that this is happening is the fact, that NWBO themselves CHOSE TO END THEIR QUIET PERIOD.
When you have had 19 months to let things progress, you PLAN. Meticulously. There are no room for failure.
When you FINALLY set that plan in motion, the one thing you DON'T DO, is to make your investors suffer even more than they already did, doing the waiting.
If you plan to get Linda Liau to present at NYAC and present "something" about the P3 trial and you start getting rumours, that trial results will be shown - first in the NYAC email newsletter promising "exciting updates from her Phase 3", then in a cancer news media Cancer Connect explicitly stating "Long awaiting trial results to be released May 10, 2022".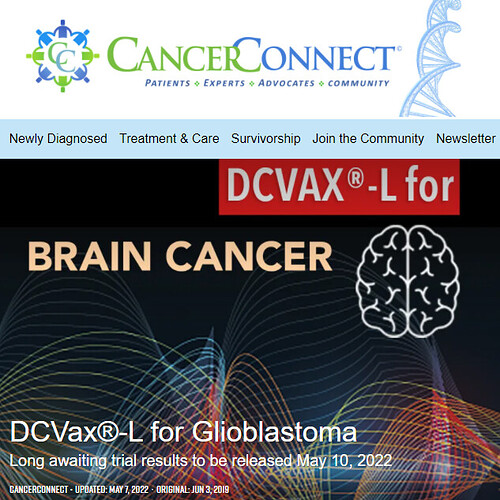 And NWBO do NOT do ANYTHING to refute that, in a way that could ease investors anxiety, then that points unequivocally to trial results will be presented.
The first thing NWBO do, after ending their quiet period, is not to create a situation, that incite more pain on investors.
I can in NO WAY imagine NWBO doing this and least before having to announce an ASM. It would be amateurish and utterly stupid, since they would easily be able to disassemble the whole ordeal and make it a nothing burger.
As NWBO CHOSE the quiet period to end NOW, just before the presentation today, NWBO CHOSE NOT to refute claims throughout the investor community, that trial results and TLD are to be announced today.
It can only mean, that TLD and trial results WILL be announced today.
I've stated it yesterday, and will state it again. If investors do not receive the trial results today and this presentation ends up being a "beating around the bush" talk about P3, I will refrain from any further commenting on NWBO here and on any other boards and sites.
Let me state it clear.
It is hypothetical!
I can't imagine that to happen.
And I expect to write you yet an article at the end of the day.
Until then.
Have a nice one! Bye!
Let me end on a positive note, with these words from VikingInvest on Ihub!