After having reached the abyss at around 68 cents a month ago, we've seen the stock price rise continously through April, where it climbed 13%, following up at the first trading day of May today, where it peaked earlier, at $1.39 - up +30% - and now having settled around $1.27 a rise since Friday at around 20%.
What has happened?
Market Makers have not been able to continue their borderline - nicely put - criminal activities keeping the stock price down on short volume.
In short, thats what happened. Because with the announcement of several conferences with Linda Liau speaking during the month of May, sentiment has been slowly but surely changing, not least due to - what a lot of us believes to be the end of the line - Dr. Marnix Bosch speaking at the ASCO Industry Expert Theater Saturday June 4th. at the last timeslot of the day.
Time to celebrate!
What will Dr. Bosch talk about?
We will discuss personalized dendritic cell cancer vaccines
Sure you will.
After what will be around 20 months of data lock and investors awaiting TLD and a publication for ages and having held through not only that, but the continous harassment of the cabal of Market Makers and paid bashers fronting their masters game on each an every stock messageboard and social media platform, Dr. Marnix Bosch is to deliver, what he was about to deliver already back in January.
Dr. Marnix Bosch withdrew at that time from the 3rd. Glioblastoma Summit. He should've spoken Thursday January 20th, but as you probably remember, he canceled 5 days before the event.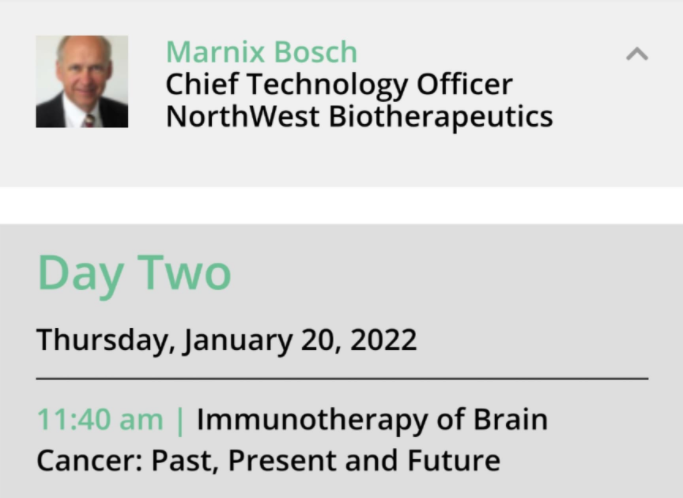 Why did he pull out from that?
Because NWBO expected TLD to happen BEFORE that event and Bosch could NOT speak about the topic "Challenges with the trial" at that point, without ending the quiet period. TLD was about to happen just before. So something happened during that time, that got NWBO to cancel. Something that NWBO felt was essential for the publication.
Look at the bottom, what the Glioblastoma Summit wrote on their website:

Externally Controlled Trials: Using External Data to Design Efficient Clinical Trials in Glioblastoma
In his "Challenges with the trial", Dr. Marnix Bosch was absolutely to talk about "using external data to Design Efficient Clinical Trial in Glioblastoma".
Come on, so why did he cancel?
Because of this article - released in Annals of Oncology few days before dr. Bosch cancelled his event, by 13 co-authors from FDA including dr. Richard Pazdur - that suddenly came out of nowhere and was nothing but a green lit the use of External Control Arms in clinical trial design by FDA.

That was simply too good to be true for NWBO, so Dr. Marnix Bosch canceled last minute. TLD and publication was postponed and it was back to the drawing board to get FDA's guidance here, incorporated into the publication, thus adding 5-6 more months to the timeline.
Which suddenly clashed with the worlds largest ASCO conference and the possibility for NWBO to "strutt their stuff", where it was not originally planned by Linda Powers for NWBO to promote their success. But now it just fit the schedule, so NWBO got a booth almost the size of Pfizers, 6.600 square feet and dr. Marnix Bosch is going to discuss …
… personalized dendritic cell cancer vaccines
Believe what you will or want to.
To me it all figures neatly in this labyrinthic suspenseful ordeal of dates and actions.
Linda Liau is going to participate on several occasions here in May, at seminars and conferences. Also meeting with Dr. Stupp and Dr. Stephen Brem. That will be the setup to the big enchilada, which will be the publication of TLD and a journal, ending the quiet period in time for Dr. Marnix Bosch to deliver a speak about personalized dendritic cell cancer vaccines at the last Saturday slot at the Industry Expert Theater, while having a huge booth the size of Pfizers.
As one do, when having nothing but a failed trial to announce to investors.
It is officially May-hem month and we should be able to reach an SP of around $3 before we get TLD at the end of the month.