What's happening dude?
Well, if you've managed to endure this week, it has been an "all out attack" on bullishness from the bear hordes on especially Ihub, with the same ol' overused vocabulary of nonsense. Bullshit about the quiet period and trying to somehow establish, that retailers have received zero information during that period as well as whining about the CEO and management not "being kind to retailers".
What a crock of shit. While not exactly drowning in company news, we've had press releases to secure us about progress on PIP plan, automation, scaling and seeking commercialization. Information that have also confirmed that MHRA have approved of the OS endpoint and the ECA trial design. Currently we're 35 trading days from Linda Liau doing a victory lap tap dance ticker tape parade during a 15 minute plenary session at SNO and with every indication of a material information to reach us before that.
Your window for accumulating at this price is diminishing.
UK and the PIM designation
Let's dwell a little about the "british connection" NWBO has. We already know this about NWBO's preference for betting on the UK:
The production and manufactoring facilities are situated in Sawston, Cambridge, England.
Advent Bioservices, which is the CDMO doing NWBO's bidding with regards to manufactoring and production of the DCVax-L vaccine, is situated in the same building in Sawston, Cambridge, England.
Hugh Adams from Braintumorresearch.org facilitated Linda Powers meeting british politicians early 2022.
Dr. Marnix Bosch, went to a Cancer Symposium early 2022, to talk about DCVax-L for british cancer scientists. It was not scheduled or made public.
Dr. Linda Liau was in England the week before the May 10th. presentation of P3 results.
The NWBO management together with CEO Mike Scott from Advent Bioservices, Hugh Adams from Braintumorresearch and Dr. Roger Stupp, were in Liverpool to see Dr. Keyoumars Ashkan present PR results at the British Neuro Oncology Society 2022 conference.
And then we have the UKs first PIM designation made in 2014. NWBO made this Press Release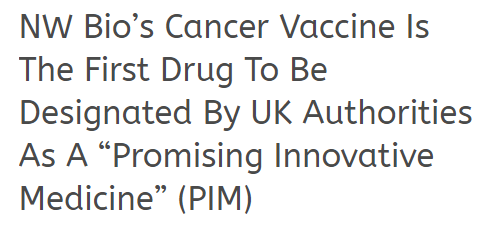 An excerpt:
A PIM is the first step in a 2-step process for early access approval under the EAMS.

The UK Department Of Health stated then

"An innovative cell therapy for cancer has become the first to be certified as 'promising' as part of a new Government scheme aimed at getting new medicines to patients quicker.

The medicine, which has been developed by US-based pharmaceutical company Northwest Biotherapeutics Inc. (NW Bio), is the first drug to be awarded the UK's new Promising Innovative Medicines (PIM) designation, the initial step in the Early Access to Medicines Scheme which aims to increase patient access to unlicensed treatments.

The PIM designation for DCVax-L covers all malignant gliomas, which would include both Glioblastoma multiforme (the most severe grade) as well as less malignant grades, and would include both newly diagnosed and recurrent gliomas. ← See figures below

The EAMS is an important new initiative in the UK, launched by the Medicines and Healthcare Products Regulatory Agency (MHRA, the FDA of the UK), to lead the way in accelerating patients' access to innovative new medicines for serious diseases.

NW Bio's DCVax-L has now become the first product to earn this PIM certification.

There is no expiration on the PIM certification.

The second step under the EAMS is MHRA's determination of a Scientific Opinion about the product candidate's benefits and risks, based on available clinical data. A positive or negative Scientific Opinion will be judged by the same three criteria as for the PIM designation, as well as a fourth criterion: the Company's ability to manufacture the product to rigorous "GMP" (clinical grade) standards.

If the Scientific Opinion is positive, the product candidate may then be prescribed by physicians and provided to (and paid for by) patients before the product is formally licensed and while it is still in clinical development.

MHRA aims to deliver the Scientific Opinion within 90 days after a party submits an application for Step 2 of the EAMS process.
Let's look at some figures from the UK then, dating back to 2016-18.
Let's add a little valuation practices to that information:
ATLnsider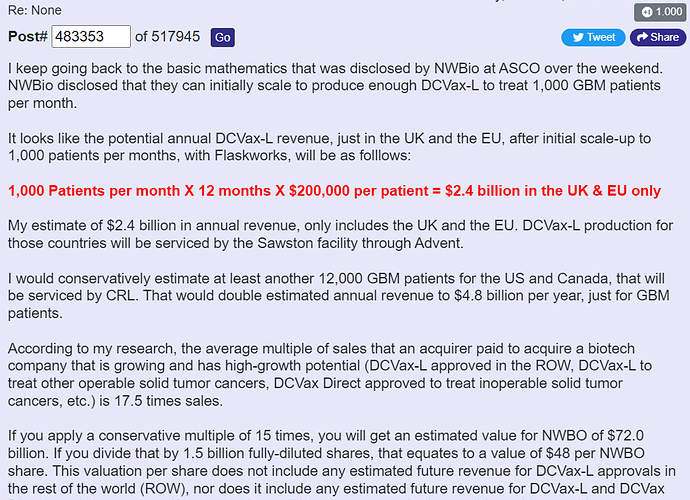 biosectinvestor