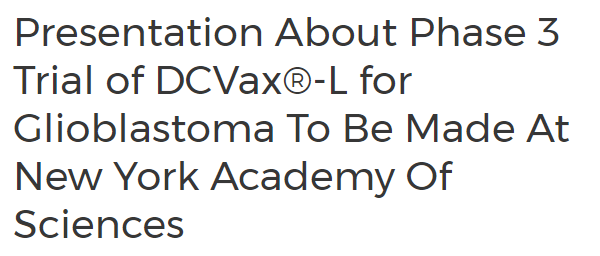 Linda M. Liau will be speaking at The New York Academy of Science's Frontiers in Cancer Immunotherapy Conference re "Autologous Tumor Lysate-loaded Dendritic Cell Vaccination for Glioblastoma" and now it seems, that information is out, that she will be speaking about the DCVax-L Phase 3 trial.

We already know, that TLD and publication will be published before Dr. Marnix Bosch speaks at the ASCO conference June 4th. at a late Saturday time slot at the Industry Expert Theater.
And now it seems as if Linda Liau will be speaking about something, quite a few shorters and fudders would like us to believe is … about DCVax-L being a nothing burger May 10th. and thus setting the scene for 3 weeks of going downhill before NWBO use their last money on a booth the size of Pfizers on ASCO, while Dr. Marnix Bosch explains, how they were so wrong and that DCVax-L was not showing the efficacy that they would want us to believe.
You could also call that sarcasm, because still being traded below $1.40 at this point - knowing all to well, that we are about to experience the announcement of one of the greatest biotech sensations the last 30 years - is just unfathomable.
In the worst stock market crisis since 2008, one stock is litteraly offering its buyers what looks like a 1500-2000% profit and perhaps even within short.
While we in an ideal and non-corrupt trading world, would've experienced a stock price of between $3-5, we're now at $1.40 still giving people the opportunity of a lifetime.
One month till June 4th.
If Linda Liau would like to be able to talk freely about the trial results next week, she will need TLD to have happened before.
Enjoy!