Once and for all …
It's April 17th. and we got approximately 6 weeks left till Dr. Marnix Bosch is going to discuss personalized dendritic cell cancer vaccine at the Industry Theater at ASCO.
We all know by now, that NWBO is going to attend this year, having a booth thats almost comparable to Pfizers in size.
May 2nd. dr Linda Liau will be presenting, moderating, and participating in a panel discussion regarding GBM at the AANS 2022 Conference "NEW Science & Clinical Trials That Will Change Glioblastoma Management in the Next Five Years". together with Dr. Stephen Brem - professor of Neurosurgery at The Hospital of the University of Pennsylvania, co-author of the 2018 interim blinded data journal article, and member of the trial steering committee - who in this clip about "Novel Approaches to Glioblastoma" says he is hopeful that DCVax-L will be approved by FDA.
In the panel will also be Dr. Roger Stupp, who was the lead investgator for the temazolamide trial that made that drug SOC for GBM in 2005.
A short sum up for what most "longs" feel of the situation has just been expressed by the investor Michael Bigger

So while we await, what's in store, let's just recap end refute three of the most incessantly repeated Greatest Hits list of fudders current lies.
Let's start the debunking …
1) ATL-DC is not DCVax-L
Milady, I regret to inform you, that ATL-DC, in the combo trial with Keytruda is very much the exact same ingredient, as DCvax-L.
In fact we wrote a whole article documenting this here
But let's just sum up the evidence here.
"As part of our National Cancer Institute-funded UCLA Brain Tumor SPORE (Specialized Program of Research Excellence), we recently opened a novel clinical trial to investigate the safety and efficacy of combining a personalized dendritic cell vaccine with an anti-PD1 immune checkpoint inhibitor, said Dr. Liau
Dr. Timothy Cloughesy says in this video clip at around 1:30
We have four different trials, one of them is an immune therapy project, that is run by Dr. Prins and Dr. Liau.
We have seen that UCLA has one project dedicated to testing ATL-DC in connection with a PD-1 inhibitor.
For one, the company is looking ahead to coformulations, combinations and other routes of administration for Keytruda that could lengthen the PD-1 king's patent life, he noted. And for two, the company has a pipeline full of candidates it thinks can help fill in the revenue gap once the drug does lose exclusivity.
Merck is looking for combinations together with its Keytruda PD-1 inhibitor.
Exhibit C: The Phase One Foundation Connection
Let's take a look at one of the collaborators again, namely Phase One Foundation, and this article on their website.
Cancer researchers receive grant to develop immune-based therapies for deadly brain tumors.
Researchers from the UCLA Brain Tumor Center received a $400,000 grant from the PHASE ONE Foundation to support their research in developing immunotherapies for glioblastoma, an aggressive and fast-growing type of brain tumor.

The funding will help open a clinical trial testing a combination treatment strategy using checkpoint inhibitors in conjunction with a personalized dendritic cell vaccine, which was developed by Liau at UCLA. The team hopes by combining the two treatments they will be able to create a new way to treat people with brain cancer, as well as develop new ways to track the immune response.

"We already have had preliminary success using checkpoint inhibitors to treat patients in a previous clinical trial," said Cloughesy, who is also a scientist at the Jonsson Cancer Center. "By combining the two immune-based treatments, we hope to bring in more T-cells that will attack cancer cells that would otherwise go unnoticed by the body's immune system."
By clicking on the link "was developed by Liau" above, you will be taken to this page on UCLA Health website.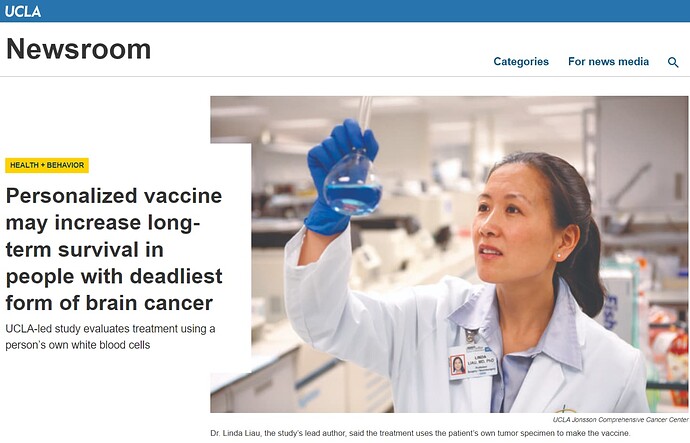 On this page it says
The vaccine, known as DCVax-L …
Thereby effectively combining the statement
… a combination treatment strategy using checkpoint inhibitors in conjunction with a personalized dendritic cell vaccine** , which [was developed by Liau] at UCLA
With
The vaccine, known as DCVax-L
Exhibit D: Overview of Brain Tumors (video)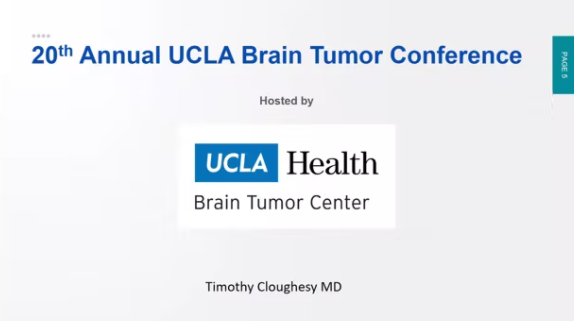 Take a look at this video by Dr. Cloughesy - working with Linda Liau on the SPORE project - at UCLA, that was released about 2 months ago, then go to the 1:30 mark to see that DCVax (ATL-DC) is the dendritic cell vaccine that UCLA uses in combination with a PD-1 inhibitor (Pembrolizumab / Keytruda).
Then go to the 27:35 minute mark to listen and see that Dr. Cloughesy also believe that DCVax can not only be used to treat GBM tumors, but it can be used to treat all solid tumor cancers.
Then go to the 31:10 mark to see what vaccines are used by UCLA to get the immune cell to the tumor to fight the tumor. The only dendritic cell listed is DCVax. Also, the peptide vaccines listed (ICT & CDX-110), have already failed their clinical trials for ndGBM.
Exhibit E: Matt Henkel
Matt Henkel who was a gbm patient, confirmed that DCVax-L was being used in a double blind study, himself receiving his third dose of DCVax-L.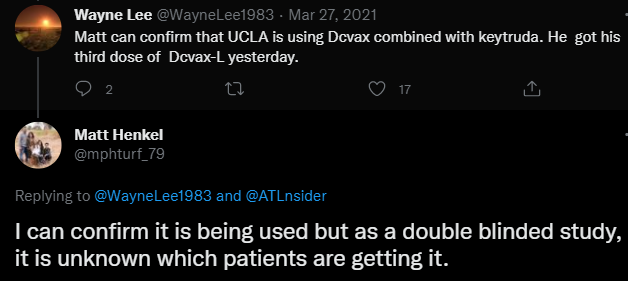 And he retweeted ATLnsiders words
Exhibit F: UCLA Brain Tumor Conference " Understanding Clinical Trials"
Listen to the video here around 43:13
Quote:
We have a trial that is using the dendritic cell vaccine plus or minus a drug called pembrolizumab. So the patients will all receive the DCvax, but they may or may not receive the pembrolizumab.They may get pembrolizumab or the placebo. That is a trial we have. Thats a trial that does go on, that uses a placebo. But it also uses a treatment that is the dendritic vaccine.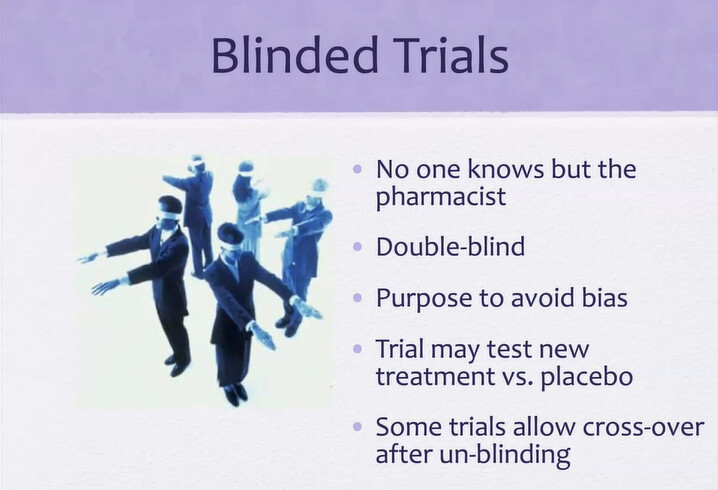 Exhibit G: UCLA Brain Tumor Virtual Conference (part 2) Mar 12, 2021
Lykiri from Ihub had this posting about questions during the Q and A session.
Questions
"I have a few questions about this trial at UCLA: Pembrolizumab and a Vaccine (ATL-DC) for the Treatment of Surgically Accessible Recurrent Glioblastoma.

This trial with Merck's Keytruda coupled with DC VAX L has been ongoing for about 14 months.
How many patients are enrolled to date?

Is there radiation or chemotherapy (temozolomide or avastin to help reduce swelling and prevent tumor growth)?

What has UCLA learned from this trial to date?

Can someone from the UK participate in this trial?

Why is the name of the vaccine "ATL-DC vaccine" and not DCVax-L? Are both generic the same?"
Answer from Nghiemphu, Phioanh [Leia] M.D.
As long as a patient can come to UCLA to have surgery for tumor resection and come to UCLA every 6 weeks for pembrolizumab or placebo infusion, they can be enrolled into this trial. It is ongoing and we are still enrolling patients. We do not have results as it is still too early.

The vaccine names are different but it is the same vaccine.
Conclusion
Beyond all doubt, the clinical combo trial with ATL-DC and Pembrolizumab, has the brand names DCvax-L and Keytruda…
2) NWBO is not involved in the combo DCVax-L/Keytruda trial
Ouch milady, I regret to inform you, that like ATL-DC, in the combo trial with Keytruda IS DCvax-L, NWBO is ALSO the beneficiary of the outcome of the combo trial and is even getting the patent for it.
Let's start looking into patent
COMBINATIONS OF CHECKPOINT INHIBITORS AND THERAPEUTICS TO TREAT CANCER
Go to this link and input application number 14/533,879.

The examiner has withdrawn all rejections and NWBO is now waiting for the patent to get announced, which will make it possible for them to get DCVax-L being patented with all thinkable PD-1 inhibitors.
Let's take a look at all claims in the patent.
Same is taking place in Europe with patent: EP3065772.
Regret to inform you fudders, that this patent alone speak volumes. But for the fun of it, just lets continue breaking down your barriers.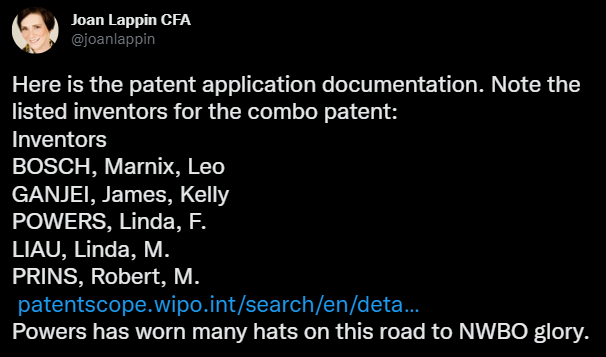 WO2015069770 - COMBINATIONS OF CHECKPOINT INHIBITORS AND THERAPEUTICS TO TREAT CANCER
Kevin Duffy from Merck Joined NWBO as Vice President for Medical Affairs & External Collaborations.
This is an excerpt of Kevin Duffys Keytruda connection while in Merck
Kevin Duffy is joining NW Bio from Merck, where he has served as Research Scientific Director in the Keytruda® (pembrolizumab) program during the last five years. Dr. Duffy's roles included scientific support and outreach to health care providers and national and regional scientific leaders in over 20 different solid tumors and hematologic malignancies (blood cancers and lymphomas) relating to Merck's clinical development and commercialization of Keytruda, as well as ongoing scientific support for Merck's Investigator-Initiated Study Program. He served as the national contact point between the scientific affairs team working with medical professionals in the field and the internal research and development team in Merck for the Keynote-024 study in first-line non-small cell lung cancer.
Kevin Duffy said:
As I look forward now to the next wave of advances in immune therapies for cancer, I am excited about the potential of NW Bio's DCVax technologies to deliver new breakthroughs for patients. I hope to build on my experience in immuno-oncology and my network of relationships in the field to help NW Bio achieve this potential
And achieve that he did, by setting up DCvax-L in a …
Combo trial with Keytruda
Already at the Annual Shareholders Meeting 2018, held February 2nd. 2019, we hear Linda Powers speak of a new combo trial with Merck, after a question from one of the attendees
What is the status of combination trials?
Linda Powers said:
I can talk about what we've said publicly… . . What we've said publicly is a couple of things. First off, we feel that our technology is very well suited for a lot of combinations. Combinations with checkpoint inhibitors, combinations with targeted agents, it's really well suited for combinations because of the mechanism of action of how our technology works and because the safety profile is so utterly benign. You know, if you've seen other combination trials for example of two checkpoint inhibitors together, the toxicity of that is so high that there's a 40% dropout rate from the patients just because of the side effects, right? So we are very much looking forward to doing combination trials. There has been public disclosure about two combination trials that we would like to do with DC Vax-L for example.
THIS IS GOING TO HURT FUDDER:
One that we announced publicly was a . . . and its still there on the table for us to go forward with when we are ready . . . it's a combination trail with DC Vax-L and Keytruda, the checkpoint inhibitor drug of Merck**. That trial, which we did announce publicly and has been approved by Merck, and those agreements were signed and all that, but as small as we are we haven't yet been able to launch that trial in parallel with everything else. But that should be a very interesting trial when we do it.
Why would investors be so interested in a combo trial with DCVax-L, if NWBO was to gain nothing by its outcome?
Did you read what Linda Powers said?
If you can not FATHOM what she actually said there, then you should perhaps take the leash that your master is holding and ask him to loosen it up, as to be able to get some air to your head?
The facts is that at the last two ASMs for 2020 and 2021, nothing has been mentioned about the combo trials, which is in accordance with what Linda Powers said at the ASM in 2017:
NWBO has not said anything about them because everyone is waiting for the Phase III results and any talk of the combo trials would just be seen as an attempt to distract from the Phase III results
3) NWBO does not have Patents and Rights for DCVax-L
Milady, once more I regret to inform you, that like ATL-DC, in the combo trial with Keytruda IS DCvax-L, and that NWBO is the beneficiary of the outcome of said trial, NWBO also have all rights and patents for DCVax-L
Document on Google Drive, with a lot of information regarding patents and rights collected through due diligence done on Ihub.
ATLnsider attaches documentation for the brand trademark being owned by NWBO. He referres to an article wherein this is stated and that he also spoke with UCLA about this.
The original inventors include key NWBO personnel
"Inventor: Marnix Leo BOSCH, James Kelly GANJEI, Linda F. POWERS, Linda M. Liau, Robert M. PRINS"
The rights don't expire. The patent is assigned and that is that. There has been no reassignment back to UCLA.
The definitive assignment is what is in the patent database maintained by the government.
Invention means these parties all hold equal rights in the invention. We'd have knowledge if the application, which has not been granted yet, were to change the assignees, and there is likely a clear agreement between all the parties as to who has what exact rights from the INVENTORS:
"Current Assignee: RevImmune Inc University of California Northwest Biotherapeutics LLC Cognate Bioservices Inc"
The University retains research rights, as does NWBO, and improvements likely accrue according to the way the original assignment agreement stipulates. None of the other parties has ever represented that it has the rights to market DCVax as a commercial product with the FDA or other regulators except NWBO. There is no indication that any of this has changed.
The patent offices and their records are the definitive and key records.
35 U.S. Code § 261 - Ownership; assignment
Subject to the provisions of this title, patents shall have the attributes of personal property. The Patent and Trademark Office shall maintain a register of interests in patents and applications for patents and shall record any document related thereto upon request, and may require a fee therefor.

Applications for patent, patents, or any interest therein, shall be assignable in law by an instrument in writing. The applicant, patentee, or his assigns or legal representatives may in like manner grant and convey an exclusive right under his application for patent, or patents, to the whole or any specified part of the United States.

A certificate of acknowledgment under the hand and official seal of a person authorized to administer oaths within the United States, or, in a foreign country, of a diplomatic or consular officer of the United States or an officer authorized to administer oaths whose authority is proved by a certificate of a diplomatic or consular officer of the United States, or apostille of an official designated by a foreign country which, by treaty or convention, accords like effect to apostilles of designated officials in the United States, shall be prima facie evidence of the execution of an assignment, grant or conveyance of a patent or application for patent.

An interest that constitutes an assignment, grant or conveyance shall be void as against any subsequent purchaser or mortgagee for a valuable consideration, without notice, unless it is recorded in the Patent and Trademark Office within three months from its date or prior to the date of such subsequent purchase or mortgage."
Here is a complete list of published patent applications associated with Northwest Biotherapeutics
Here is a complete list of published patent applications associated with Northwest Biotherapeutics.
Of those patent applications, here are the ones that have issued into patents.
Regarding how UCLA is using NWBO technology, it is possible that (1) they have a license from NWBO (if they're practicing a patented technology) or (2) the technology they're practicing hasn't been patented yet (e.g., patent pending).
Also, here is a good article explaining the concept of patent term extension. NWBO has a number of patents whose term are coming due soon. Conceivably, if these patents are related to the DCvax and NWBO finally receives approval from the FDA, the term of these patents may be extended by up to 5 years.
The maximum term extension is five (5) years, provided that the extension does not result in a total remaining patent term of more than fourteen (14) years.
Assignments are made to the owners of the patents. So, the patents are assigned to NWBO by the inventors. NWBO is able to provide others with licenses to practice the patented technology, but these licenses are not usually public record like an assignment is.
Also, even if NWBO doesn't have the rights to the combination, whoever uses the combination still has to practice the NWBO-owned portion of that combination, which they cannot do without a license from NWBO.
Discussion regarding this from Ihub
exwannabe:
The combo patent is still being denied by the USPTO as being obvious because all it really claims is using the combination, and others already have.

As far as patents on -L specifically, I do not think any are still valid. I have gone through their patent list and fail to see one. No long has every chirped in with an actual patent that is still in force.

You do know the -L tech is 20+ years old?
muee88:
Hey, Ex, do you know the concept of patent term extension?
exwannabe:
Yes.

The only big one would be Waxman Hatch, that is up to 6 years to account for clinical trial development delays. But for that to apply, they have to be approved before the patent term expires.

The other extensions because the PTO was slow to reply are typically minor.

Anything else?
Muee88:
No, those are called patent term adjustments when the PTO adjusts the term. And do you really believe it's going to be another 2 years before FDA opines? Give me a break.

Here's another more recent patent app dealing with DCvax. Eat your blessed heart out. Should be allowed next action.
Likely there have been a series of agreements for initial research and funding and collaboration that spelled out who owned what for those rights. Agreed. It is generally not possible to undo those without a signed agreement, by all the parties, which would then need to be provided to the USPTO and other registrars, according to the statutory and legal guidelines, which I posted separately.
Agreed, though the application clearly lays out who the inventors are and likely falls under the original assignment related agreement. It is more of a bock to others who might seek to market a combination therapy than a right to, for instance, Keytruda. But it could be useful, assuming it is ultimately granted.
Usually with the biotechs I have generally seen, particularly those in cellular related technologies, the original assignment agreement allows the inventors to have certain rights to continue doing research, but the commercial rights are retained by the assignee along with any improvement rights.
"The research was supported by Northwest Biotherapeutics, Inc., which manufactures DCVax-L, and by the National Cancer Institute through the UCLA brain cancer program, which was recently designated a Specialized Program of Research Excellence by the NCI."
So, it's likely that if NWBO was funding the research, there would have been an agreement that all products of that research would be assigned to NWBO. Again, this agreement is like not to be public record.