I passed this tweet on Twitter and it gave me an idea, to write a little something about, what investors in NWBO has come to know as the 'Big Fat Tail'. The around - perhaps - 1/3 of long time survivors of 331 participants, in the 15 years long DCVax-L trial.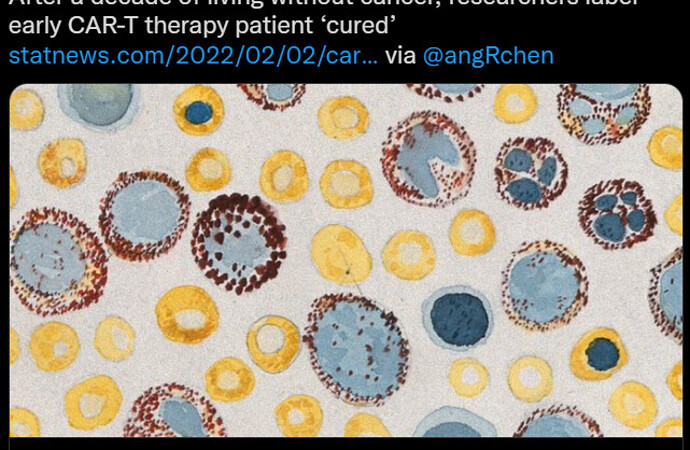 Adam Feuerstein is a journalist writing for the website STATNEWS. For 16 years he wrote for The Street. In his farewell piece for The Street he wrote
More than anything, I wanted very badly to work for Jim Cramer and TheStreet.com . Cramer, the frenetic former hedge-fund manager was re-inventing financial journalism for the web.
Jim Cramer, known for his "Mad Money" program on CNBC, is also known for having had this little video clip interview on Youtube, he made during his time on The Street, where he described the shorting techniques to manipulate stock prices and said: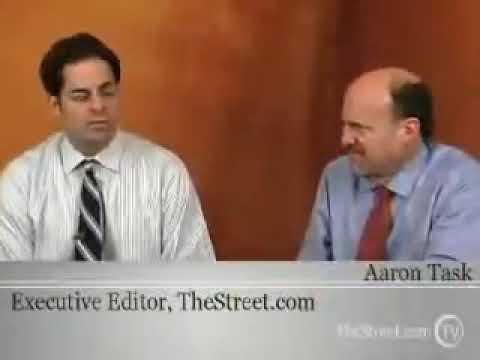 It's a very quick way to make money, and very satisfying. And by the way, no one in the world would ever admit that, but I don't care!
Before leaving The Street for STATNEWS, the latter published an article dedicated to Feuerstein, with the title Is Adam Feuerstein the most feared man in biotech?
Excerpt:

When he tweets, stocks tumble. And biotech executives quake.

Often angry, always skeptical, Adam Feuerstein may be the most feared journalist covering the biotech industry. He digs deep into the science to take down companies that he believes overhype their drugs, distort their data, or make ridiculously grandiose promises.

And then he takes to Twitter to have a little fun. Feuerstein has called biotech CEOs "dumbass," "douche canoe," and "stem-cell smoothie peddler." He has referred to financial analysts as "moron" and "dipshit." In his telling, several companies making bold claims were peddling nothing more than "diluted bleach water." A top public relations exec was a "human oil slick." Another PR firm? "Idiots."
Well, mr. Feuerstein had his dream come true and one thing we NWBO investors are enlightened about, are all the articles and blog posts that he did about NWBO during his time there, always having a bearish view on the company and its brain tumor vaccine.
If one would like to have an overview, one should read the 41 articles Larry Smith from Smith on Stocks wrote about not only Feuersteins unwavering interest in NWBO, but also the personal tete-a-tete that followed between the two.
During that time a battle ensued between Adam Feuerstein and Steven Pearlstein, a columnist from Washington Post, who wrote the article 'Northwest Biotherapeutics stock woes highlight the harm of short sales'.
In it he wrote:
Excerpt:

In late July, CREW's executive director, Melanie Sloan, asked the Securities and Exchange Commission to investigate market manipulation of Northwest Bio's stock. (Sloan told me her organization has never been contacted by the company and has no connection to its executives, investors or directors.)

In her letter, Sloan called particular attention to Adam Feuerstein, a biotech reporter whose relentlessly negative blog posts for thestreet.com this year have not only been filled with exaggeration, mischaracterization and half-truths, but curiously have also coincided with the spikes in short trading
It was a piece that started a controversy between Pearlstein and Feuerstein and with LA. Times backing Feuerstein up in another article, 'Taking aims and misfiring'.
And ended with Pearlstein making this announcement in an article in The Street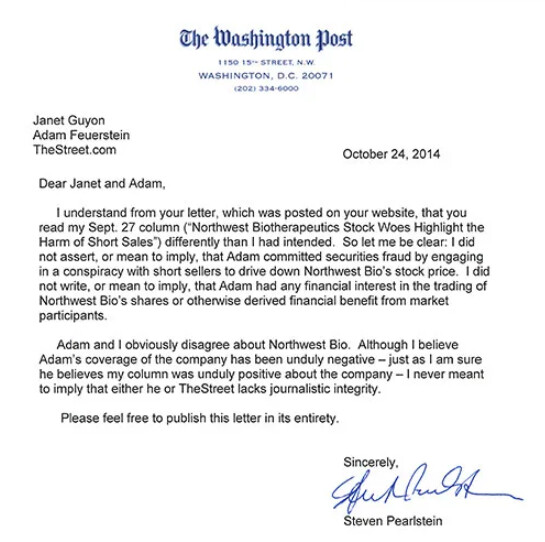 Melanie Sloan got the following tweet comment

To which, the former CEO for the $1.5 billion hedge fund 'Copper River' - and now calling himself US short seller on Twitter - Marc Cohodes, commented

A couple of times later Adam Feuerstein tweeted about that event.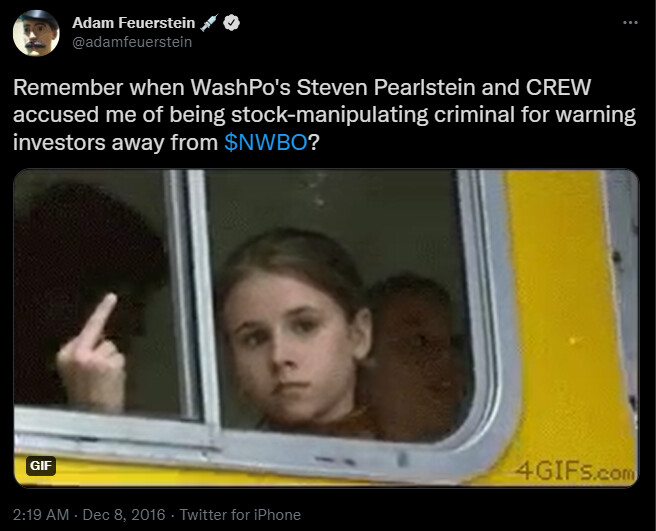 He got a response from Marc Cohodes

The Marc Cohodes talking about how Market Makers takes advantage of "naked shorting" in this interview, in a discussion regarding how Market Makers practice driving down the stock price of companies.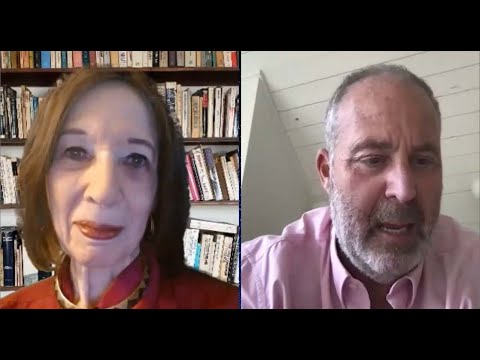 And a couple of years later, he let the world know, that he still awaited an apology from Steven Pearlstein.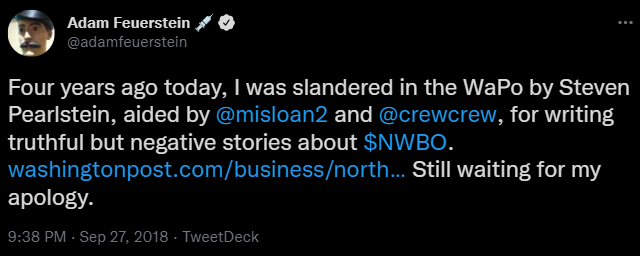 One of Feuersteins many "quarrels" with NWBO, is mentioned in the Washington Post article.
Excerpt

Linda Powers, at the big annual cancer research conference, in which she described how one patient had responded to the company's therapy.

In both columns, Feuerstein expressed outrage that a drug company would exploit the suffering of patients for commercial gain (imagine that!) by selectively releasing results from a Phase I/II trial. He quoted Dr. Aman Buzdar, the head of clinical research at MD Anderson Cancer Center, the lead hospital for the Northwest Bios trial, criticizing the company for taking the "unusual and inappropriate" step of releasing such information. If Buzdar had first checked with his colleagues, however, he would have found that two of them had recently appeared in a National Geographic documentary focused on just such interim results from a pancreatic cancer patient. And, as CREW noted in its letter to the SEC, Buzdar himself made positive comments at a 1999 conference about a breast cancer drug he was testing that was still in clinical trials.>
And then we're back with the tweet - After a decade of living without cancer, researchers label early CAR-T therapy patient 'cured' that mr. Feuerstein did with reference to the STATNEWS article about a patient being litteraly cured from leukemia.
Excerpt:

But as the researchers tracked Olson and another patient, what they saw was remarkable: Year after year, the CAR-T cells persisted, actively watching for cancer cells. Olson has now been cancer-free for a decade, June and his colleagues reported Wednesday in Nature. The results are so enduring that June dared to use a word that oncologists are usually loath to say: cured.

"We can say it was a cure for Doug, because these are the most mature and oldest results available reported in scientific literature. Because they were the first treated," June said. "Ten years on, no leukemia cells, and we still have CAR-T cells that are on patrol and surveillance from leukemia." The first patient treated with CAR-T, Bill Ludwig, also remained cancer-free until his death from Covid-19 in January 2021
The Big Fat Tail of Survivors
I think it is swell, that Adam Feuerstein seems to be interested in a working cure for cancer, since he obviously have not indicated the same interest for the many year long survivors from the worst cancer of them all. Brain cancer, which is due to NWBOs personal dendritic vaccine DCVax-L.
The results were already astounding with the interim blinded data from 2018, where Dr. Marnix Bosch talked about the "big fat tail" of survivors from the treatment, where a large portion of the enrolled patients, just seemed to be living on and on for years with no side effects from the vaccine.
NWBO let the trial continue for almost 3 more years in order to better capture and let the data for that batch of long time survivors evolve - and thus let the big fat tail grow even more impressive.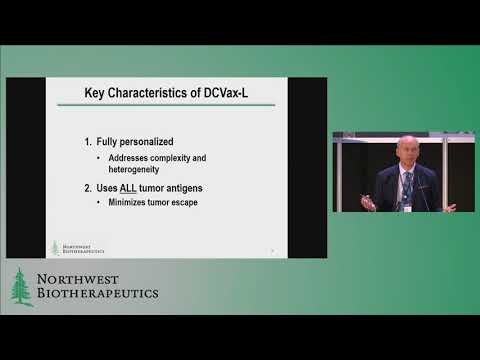 Jeannine Wallston
Jeannine Wallston has a blog, in which she writes about Brain Cancer Updates: Long-Term GBM Survivors from the DCVax-L vaccine trial.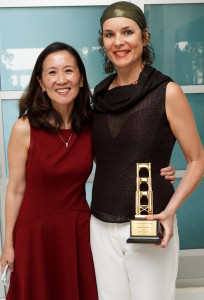 Jeannine Wallston, 24 year GBM survivor with Linda Liau
Her own story is somewhat captured in this article from 2016 UCLA '18-Year Brain Tumor Survivor Thriving from 3rd Awake Brain Surgery & Immunotherapy Vaccine from Dr. Linda Liau at UCLA'. In it Jeannine writes:
Excerpt:

Nearly two decades ago, Dr. Liau's early research led to the development of the very first personalized brain cancer vaccine in the United States. It works by combining the patient's brain tissue with their own dendritic immune cells drawn from blood to create a personalized treatment. This customized treatment is formulated by activating the patient's own dendritic cells against the tumor cells in the laboratory, and then injecting them back into the body to jumpstart the patient's immune system to train "killer T cells" to seek out and kill the tumor in the brain.

I received the vaccine to treat Grade III Anaplastic Astrocytoma (AA). Moreover, I've met and spoken with Grade IV glioblastoma (GBM) patients treated by Dr. Liau with surgery and the DCVax-L vaccine who have also experienced remarkable results. Some of those GBM patients include: Jennifer, a 16-year GBM survivor; Brad, a 13-year GBM survivor; Elijah, a 9-year GBM survivor; Gallia, a 5-year GBM survivor; Jamil, a 4-year GBM survivor; and several other individuals.
Killer T cells. Can you draw a parallel to the Car-T treatment of leukemia, that Feuerstein links to?
You can add 5 years to all of these survivors, thus making the results and the reality even more stunning. They're all living normal lives today.
Jeannine is now "working on her" 24th. year of being 'cured' from brain cancer.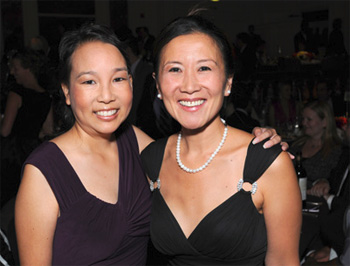 Jennifer Sugioka, 22 year GBM survivor with Linda Liau
I was thinking …
While you go on awaiting your apology mr. Feuerstein, wouldn't it be somehow proper to offer NWBO yours?
I recall this, which I will categorize as "famous last words".

After so many years of being proved wrong about anything NWBO and after you obviously seem to be able to admit the positive leukemia cancer treatment results, no matter how small the trial group must be, wouldn't it be a nice gesture to admit DCVax-L seems to be a working 'cure' to many of the year long survivors in this trial, having lived not only 10 years, but 20, 22 and 24 years after having been treated with the DCVax-L vaccine against the worst cancer of them all. Glioblastoma?
We're waiting.